The Bible and War

Savitrie



"Dear Savitrie - Does god really want us to kill people for oil? Are SUV's and driving our kids to school daily protected by biblical reference?"

Savitrie Says
"Yes, God wants us to protect our children. God has given man wisdom in this modern day to do so. You certainly do not want to take your children to school and put them in a donkey cart and take them on the interstate. Also, there are just wars. God takes away from the wicked to give to those who walk righteous before Him. The wealth of the wicked is layed up for the righteous. Read the Book of Samuel. God commanded the destruction of the Amalekites. They were terrorists that attacked God's children - Israel. Just as we protect are children, God protects His children. The Bible says in 1 Samuel 15:2-3, Thus says the LORD of hosts: 'I will punish Amalek for what he did to Israel, how he ambushed him on the way when he came up from Egypt. Now go and attack Amalek, and utterly destroy all that they have, and do not spare them. But kill both man and woman, infant and nursing child, ox and sheep, camel and donkey.'"
---------------------------------------------------
Also Matthew 10:34-39 says, "Do not think that I came to bring peace on earth. I did not come to bring peace but a sword. For I have come to 'set a man against his father, a daughter against her mother, and a daughter-in-law against her mother-in-law'; and 'a man's enemies will be those of his own household.' He who loves father or mother more than Me is not worthy of Me. And he who loves son or daughter more than Me is not worthy of Me. And he who does not take his cross and follow after Me is not worthy of Me. He who finds his life will lose it, and he who loses his life for My sake will find it." - Savi s."
Compiled by Thomas George
editor@Great-Messages.com
Dear Savitrie
Biblical Answers to your Problems
*The Book*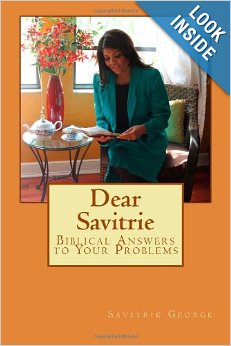 $9.99
Savitrie gives you the Biblical answers to questions such as burning the Koran, Barack Obama, astrology, psychics, abortion, the morning after pill, gay marriage, Harry Potter, white lies, divorce, baptism, war...